AXIS Tailgating Detector
AXIS Tailgating Detector helps overcome the fact that most automated access control systems at places such as membership clubs and gyms, do not control how many people at a time are allowed to enter the building. The application helps prevent unauthorized entry.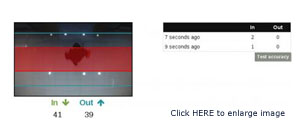 AXIS Tailgating Detector is designed to detect and notify if more than one person enters within a set time interval. Alarm notifications include email or an audio output. You can use it to prevent abuse of membership cards and employee cards, thus minimizing losses and the possibility of theft. It can also save you money by eliminating the need for security guards at entrances.
Real-time tailgating detection and notification
Minimizes losses
Based on proven technology
You can count on it
AXIS Tailgating Detector runs embedded in a ceiling-mounted network camera. It is an automated system that provides two-way counting in real time. The software is built on advanced and proven algorithms from Cognimatics, whose programs have led in retail analytics for more than a decade. Offering high-speed execution and low memory requirements, the software has been installed in thousands of cameras worldwide.
Integration and data access
AXIS Tailgating Detector saves data directly on each camera for up to 90 days. Its open protocol allows the data to be integrated into other systems. Users can access the data in the following ways:
By using a standard web browser to access the camera's web interface, which provides live views and graphical representations of the statistics. In such a case, there is no need for an on-site server or any other hardware.
Through an open HTTP API in the camera, whereby you can extract real-time static raw data, as well as data for specified time periods, in various formats; for example, JSON, XML and CSV.
By using AXIS Store Reporter, which is a web-based service that gathers statistical data from various sources of Axis retail analytics applications and presents the data and graphical representations in one interface. Ideal for use in multi-site and multi-camera installations.
Through AXIS Store Data Manager, a locally run software program for easy integration of data into third-party business intelligence applications.

AXIS Tailgating Detector Data Sheet