Suprema
Suprema Biolite N2
Suprema BioLite N2 is a Suprema's 2nd generation outdoor fingerprint terminal that provides comprehensive access control and time attendance features based on Suprema's latest biometric technology and security platform. BioLite N2 provides class-leading performance and security by featuring Suprema's latest fingerprint algorithm coupled with world's best fingerprint sensor. Packed in a rugged IP67 housing, BioLite N2 added flexibility in system design with multi-class RFID reading technology.

---
Faster Fingerprint Matching Speed
BioLite N2 features a class-leading 1.2GHz CPU that enhances user experience by offering precise control of locking devices, and quick response for users.
IP67, Dust & Water Proof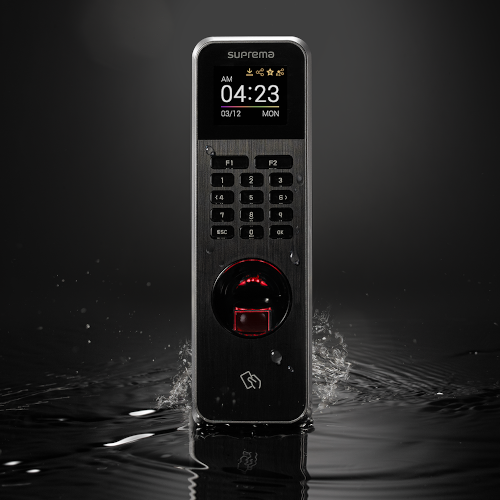 BioLite N2 offers superior ingress protection with its IP67 rated rugged structure. The device provides superior protection against invasive moisture, dust and even liquids. This protection is achieved with meticulous sealing and extra protective engineering from Suprema. No matter how harsh the environment, BioLite N2 is the ideal choice for outdoor applications.
Communicates with Smartphones
With BioStar 2 Mobile card, as a credential, your smartphone is a key to access.
NFC (Near Field Communication)
Communicates through NFC's HCE in Android
*note that HCE in available from all Android mobiles.
It is recommended to check the mobile spec, but it is supported mostly latest models.
Protecting data communications by algorithmization of AES bit encryption
BLE (Bluetooth Low Energy)
Communicates through BLE in Android/iOS Protecting data communications by algorithmization of AES 128 bit encryption
---
Suprema FaceStation 2

Suprema FaceStation 2 is the most advanced face recognition terminal providing loads of the world's best features. Powered by Suprema's latest innovation in facial biometrics, FaceStation 2 offers unrivalled matching speed, accuracy and level of security. With Suprema's patented optic engineering, FaceStation 2 achieves up to 25,000 lx of operating illuminance which in turn, brings all-round confidence regardless of lighting conditions. Packed in an ergonomically-designed structure, FaceStation 2 provides exceptional performance and usability for diverse access control and time attendance sites, large or small.
High Speed Face Matching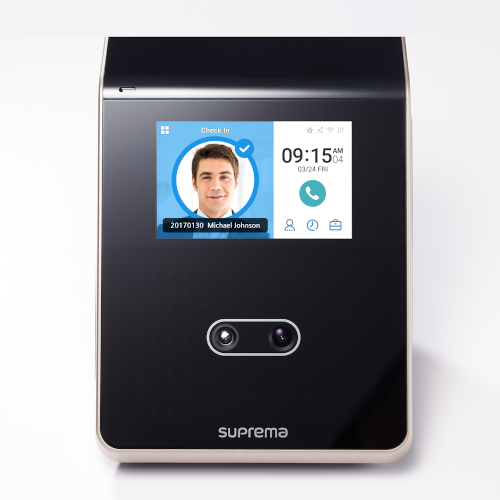 Powered by Suprema's latest face recognition algorithm and range-leading 1.4GHz quad-core CPU, FaceStation 2 provides the world's fastest matching speed of up to 3,000 match/sec.
Massive Memory Capacity
FaceStation 2 offers a massive memory capacity to manage largest number of users in its class.
A single unit of FaceStation 2 can accommodate up to:
30,000 users
50,000 face image logs
5,000,000 text logs
All Lighting Conditions Confidence
With Suprema's patented IR illumination and optical technique, FaceStation 2 now achieves operating illuminance of up to 25,000 lx, about 5 times brighter than industry average. At 25,000 lx, FaceStation 2 allows uninterrupted face recognition regardless of all possible indoor lighting conditions as well as outdoor installations unless exposed on direct sunlight.