Encom Explosion Proof Network Cameras
Encom Explosion Proof Network Cameras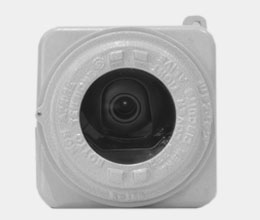 Certification:
ATEX Certificate Number:
ATEX = II 2GD Exd IIC T6 : IP66
Sample Documentation:

Explosion Proof Camera Datasheet

CESI 11 ATEX 64

Supplier Declaration of Conformity
Camera:
HDTV 1080p and H.264
Day/night functionality
Remote zoom and focus
P-Iris control
Edge storage
IK08 impact-resistant
Camera casing construction:
Body and cover in low copper content aluminium alloy
Front window in borosilicate glass
Internal/external earth screws
Fusion fixing lugs
RAL 7035 epoxy coating
Neoprene or silicone gasket
Size: 17.4 x 17.4 x 16cm
Explosion proof cameras are designed to operate in hazardous, hostile or explosive environments including pharmaceutical and chemical plants, oil refineries, petrol stations, grain stores or other dusty environments.
Encom Explosion Proof Cameras have weather resistant casing and are dust tight, waterproof and chemical resistant. The camera housing is robust and scratch proof with high impact resistant glass.
Cameras are approved for areas such as mining, dust and gas explosions risk zones and are perfect for small surveillance solutions including petrol stations or large factories, saw-mills or environments that require a high level of surveillance for operational processes.