Equinix
Equinix provide secure and highly-connected environments for IT and telecoms equipment with Data Centres in over 500 locations around the world. Equinix's Irish Data Centres, formally Telecity Group, are based in Kilcarbery, Ballycoolin and Citywest Business Campus, Dublin. Their blue chip client base demands the highest level of security for their critical IT infrastructure.
Customer requirement from IP Surveillance solution:
Provide an integrated security system with a single interface for CCTV, access control, perimeter protection and audio to secure the critical infrastructure in a group of Dublin based Data Centre sites. Provide complete resilience and visibility across all sites using multiple Intel based servers running Milestone Corporate VMS on a solid Microsoft/VM Ware platform.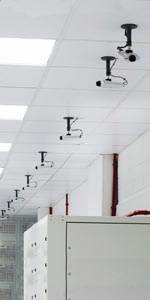 System used
Over 550 Axis Network Cameras are installed throughout the sites with Milestone Corporate VMS (Video Management Software) used to view and manage footage.
A 220 unit access control system fully integrated with CCTV uses high specification hand geometry and iris biometric for highly secure user authentication.
The security video system is on a multiple server back-end running on a Windows / VM Ware platform to facilitate complete system failover and redundancy across the three sites.
Result
The electronic security system on these sites integrates access control, perimeter detection, remote monitoring and video surveillance into a single user interface that can be managed from any point of the customer's network.
Management and administration of the security system is simpler when the security elements above are brought together under a single interface.
The security system is fully future proofed through a regular upgrade and maintenance schedule which allows for integration with the latest industry technologies.
High quality images produced by Axis Network Cameras make it possible to identify individuals and interrogate incidents previously not possible due to poor lighting or weather conditions.