Access Control Management Software
Access Control Management Software
No matter your needs, we offer access control management software to meet your requirements. From more basic access control management, to unified video and access control, as well as a range of partner solutions, we have you covered. Thanks to open systems and a broad portfolio, our solutions can change, adapt, and grow when you do.
AXIS Entry Manager is a software solution developed specifically for access control for small to mid-sized businesses. It comes pre-installed on AXIS A1001 Network Controllers. AXIS Entry Manager is a web-based software which is used for installation, configuration and administration of credentials. Being a fully distributed solution, all data is stored in the controllers and the system can be managed from any computer on the network.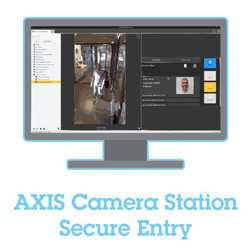 From retail stores to schools and commercial buildings, AXIS Camera Station Secure Entry puts efficient video surveillance and access control at your fingertips. With one, user-friendly interface, it ensures trouble-free management of your security system. Preloaded on Axis recorders and available as stand-alone licenses, AXIS Camera Station now includes access control management as part of its seamless, user-friendly interface.