PC Based Systems
A PC based access control solution allows you to control who has access to your building. It can control any site or building, from just one door up to hundreds of doors, with thousands of users. It can be accessed from your desk at the click of a button, is so easy to manage and users can be added to, or barred from, the system within seconds.
Encom offer an advanced PC Based Access Control solution allowing you to manage hundreds of doors and up to 50,000 people with software that allows full control of the system from your desk.
The Net2 Entry IP intercom consists of one or more entry panels each associated with its own control unit and as many video monitors as the building requires connected over IP to scale to hundreds of devices...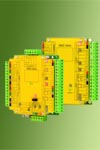 Net2 is a networked access control system. A networked system gives the advantages of central control, event reporting and flexible control over users' access. Each control unit is part of a network but can...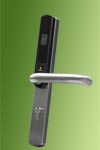 Net2 PaxLock is a wireless, battery powered, Net2 access control unit in a simple slimline door handle that can be fitted in minutes. Using secure wireless technology the Net2 PaxLock communicates with the...
Net2 Entry can be installed as a standalone system using one control unit, one entry panel and one monitor or it can operate with up to 100 panels and 1000 monitors. The diagram below indicates how a large systems can be configured using multiple panels and monitors where all the monitors on a single network can be called by any panel.