Salto Access
SALTO Systems has grown to be the market leader in state-of-the-art electronic access control systems with a wide range of innovative products controlling security access for a growing range of end users from Airports to Hospitals, Banks to Government Buildings and Universities to Hotels. And now an affordable CLAY locking solution brings enterprise-level technology to the SME sector.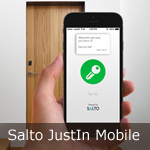 Lockdown: SALTO enables users to make an emergency lockdown of a property in the event of a security incident. Lockdowns can be performed remotely through wireless locks, or locally on AMOK escutcheons. This increases security of both employees and visitors.
Separate public and restricted areas in an access plan by differentiating easily who has access and when, to such different places as public transit areas, specific service areas, individual offices, floors, or buildings.
Optimise the use of libraries, public access areas of public buildings and parking areas by employing the flexibility of the system to change access plans easily thereby allowing the individual programming of certain installations.
SALTO's extensive product range of solutions is suitable for use with all types of doors, including historic or architecturally listed doors. Employ heavy-duty locks for high-traffic doors that meet government requirements.
SALTO Wireless can be used as an independent system or as a complement to SALTO Virtual Network (SVN) and hardwired IP solutions. It connects battery-powered electronic escutcheons and cylinders by means of low power radio transceivers (2.4 GHz). These interact with XS4 gateways, which are connected by Ethernet/WiFi to the central management computer. With a single click of a mouse you can configure or make changes to the network in real-time.
Read More about Salto Innovation