JustIN Mobile Key
Salto Innovative Achievement Award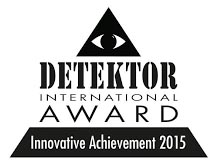 SALTO Systems, the leading provider of stand-alone access control solutions, has received the Innovative Achievement Award in the Access Control category at the 16th Detektor International Awards recently held in Stockholm, Sweden.
SALTO was recognised for its JustIN technology that was considered one of the most innovative products in the access control category by the Detektor International panel of judges who said "Innovative in-house designed JustIN apps from SALTO cleverly bring the flexibility of BLE or NFC enabled smartphones to vertical markets in access control solutions."
SALTO solutions are working in more than 6000 luxury and resort hotels worldwide, in addition to other types of guest accommodations, vacation properties and holiday resorts.
SALTO adds value to any hotel by providing security and reliable access control 24/7 that covers the entire property:
Provide a value-added experience for guests with SALTO's JustIN Mobile Key technology that allows guests to use their smartphone as their room key.
Enhance productivity and management with instant re-rooming, group check-in, and extended stay functionalities.
Optimize the flexible use of hotel resources such as seminar and gala rooms, pool and spa/wellness areas, golf and other sport facilities and parking areas that easily permits the individual programming of specific installations.
Provide a more comfortable stay for guests with the Privacy mode option that shows in real-time if a guest is in the room.
Offer a choice of credentials to guests: from the JustIN Mobile Key smartphone app option to SALTO's wide range of robust and waterproof cards, fobs, and bracelets which are compatible with the latest ID technologies.
Special SALTO features for Hospitality applications
JustIN Mobile Key
SALTO's BLE-based solution JustIN Mobile Key, allows users to use their smartphone as a room key. SALTO's mobile solutions are independent from the smartphone manufacturer.
Integration with third party systems
SALTO's integration technologies are compatible with many systems that are common requirements in the hospitality industry, such as Time & Attendance, CCTV and PMS systems.
Energy Management Saving Devices
The SALTO in-room energy saving device (ESD) can save up to 65% of a hotel room's electricity consumption. And, unlike common magnetic strip-based energy savers, with SALTO's ESD, only authorized SALTO key cards will operate the device.