AXIS Demographic Identifier

AXIS Demographic Identifier
AXIS Demographic Identifier determines the gender of your customers and their approximate age range by detecting and analyzing the faces of store visitors on a running basis. The result is information you can use to make targeted marketing and merchandising decisions.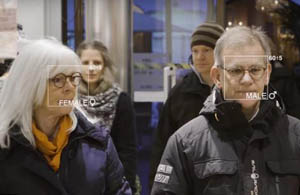 Generates demographic data of visitors
Optimizes merchandising and marketing activities
Targeted marketing
AXIS Demographic Identifier lets you compare gender and age statistics across store locations and times of day. It allows you to target marketing efforts at the demographic segments likely to visit in certain areas and at certain times. You can use the application, for example, to automatically change, in real time, the advertisement on a digital display to better suit the gender and/or age group of the person in front of the screen. You can also use the application to evaluate the success of specific campaigns.
Targeted merchandising
Demographic insights from AXIS Demographic Identifier helps you stock merchandise that appeals to the customers shopping at your stores. When integrated with your point of sale (PoS) system, you can see what kinds of items are of interest to different customer segments. You can use the information to decide, for instance, what to feature on certain days of the week or times of day. The results are likely to be higher sales and happier customers who find what they're looking for – and return again and again.
Targeted in-store experience
You can also use AXIS Demographic Identifier to tailor the in-store experience to demographic segments. Choose music, décor, and so on that your shoppers will find appealing and that encourages purchases.
Support
AXIS Demographic Identifier software can be used in the high-performance AXIS FA54 Main Unit together with AXIS FA4115 Dome Sensor Unit. The software supports camera events, enabling configurations that allow gender and age data to automatically trigger actions such as email notifications and change in digital display signage in real time.
Click on image to enlarge.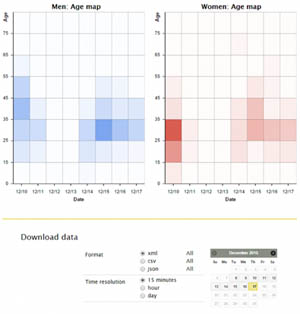 Anonymous data
AXIS Demographic Identifier does not store images or video, so the personal integrity of customers is never compromised. Only data is stored directly on each camera for up to 90 days or 20,000 face detections.
Its open protocol allows demographics data to be integrated into PoS or other systems. Users can access the data in real time in four ways:
By using a standard web browser to access the camera's web interface, which provides age and gender graphs for the current day, and age and gender map for the past 7 days. With this method, there is no need for an on-site server or any other hardware.
Through an open HTTP API in the camera, whereby you can extract real-time static raw data, as well as data for specified time periods, and in various formats; for example, JSON, XML and CSV.
By using AXIS Store Reporter, which is a web-based service that gathers statistical data from various sources of Axis retail analytics applications and presents the data and graphical representations in one interface. Ideal for use in multi-site and multi-camera installations.
Through AXIS Store Data Manager, a locally run software program for easy integration of data into third-party business intelligence applications.

AXIS Demographic Identifier Data Sheet