AXIS Occupancy Estimator
AXIS Occupancy Estimator lets you determine on average how many people are present in the building or in a certain area at different times of day.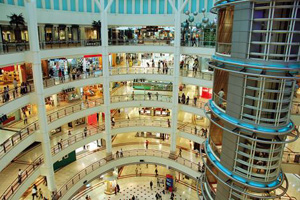 Whether it's a store, mall, convention center or entertainment venue, you can use the information to understand the flow of people within an area, improve the use of a space, get an indication of the revenue opportunity, improve staff planning, determine optimal opening hours – and take measures if too many people are in the building.
Gathers and analyzes occupancy data
Indicates number of people in an area and average visit time
Improves staff and service planning
Based on proven technology
Get your staffing right
Statistics about the average number of visitors to your store or mall can help you plan how many sales and security staff members you need at any given time, ensuring there is adequate security and excellent service while optimizing employee costs.
How it works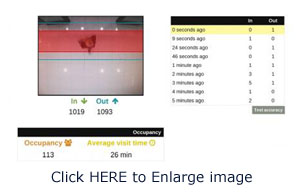 AXIS Occupancy Estimator is an automated two-way occupancy system that runs embedded in a ceiling-mounted network camera that is installed at doorways.
Cameras with the embedded software can be mounted at every entrance/exit of a designated area and connected in a master-slave set up—with a master camera controlling and collecting data from others—to provide a complete picture of the occupancy level for the entire building, or for a particular floor or section of the building.
AXIS Occupancy Estimator uses the camera's CPU and counts in real time the number of people entering and leaving a doorway, calculates the average visit time, and presents information about the number of people in the building or on a certain floor at a given time.
The software provides improved accuracy by continuously calculating an average visit time. The average visit time is then used to filter away counting errors (e.g., missed counts or double counts) that accumulate throughout the day. The result is a better estimation of the occupancy level and average visit time at any given time, as well as a corrected full day analysis at the end of the day.
The program also allows you to set the maximum occupancy level and configure the response when the level exceeds the threshold. Responses can include sending an e-mail or SMS alert, or playing a sound file.
Information about occupancy levels can be displayed directly on an auxiliary monitor.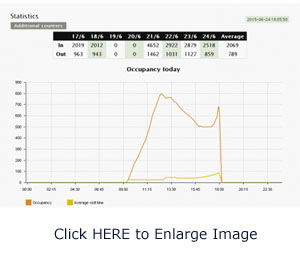 Proven technology
AXIS Occupancy Estimator is built on advanced and proven algorithms from Cognimatics, whose programs have led in retail analytics for more than a decade.
Offering high-speed execution and low memory requirements, AXIS Occupancy Estimator has been installed in thousands of cameras worldwide.
AXIS Occupancy Estimator saves data directly on each camera for up to 90 days. It does not require any additional software. Its open protocol allows the data to be integrated into other systems. Users can access the data in four ways:
By using a standard web browser to access the camera's web interface, which provides live views and data, as well as graphical representations of the statistics. In such a case, there is no need for an on-site server or any other hardware.
Through an open HTTP API in the camera, whereby you can extract real-time static raw data, as well as data for specified time periods, and in various formats; for example, JSON, XML and CSV.
By using AXIS Store Reporter, which is a web-based service that gathers statistical data from various sources of Axis retail analytics applications and presents the data and graphical representations in one interface. Ideal for use in multi-site and multi-camera installations, whereby you can compare the occupancy level in different areas of a building and export data.
Through AXIS Store Data Manager, a locally run software program for easy integration of data into third-party business intelligence applications.

AXIS Occupancy Estimator Data Sheet