Schlage HandKey II
The HandKey II biometric terminal is ideal for access control applications requiring the highest level of security. This unique Schlage technology utilizes the geometry of the human hand as a credential. HandKey II readers capture the shape and size of a hand, taking over 90 distinct measurements. They then convert and store the measurements as a 9-byte numerical identification template completely unique to each person making the hand a key to the entry.
The HandKey II functions as a standalone unit or is easily integrated into an existing access control system. As an access controller, it provides lock mechanism management with request-to-exit and alarm monitoring. Alarms include tampering response, ID refusal, excessive scan attempts, user duress, and power failure. The HandKey II is also easy to maintain, making it an ideal mix of convenience, security and peace of mind.
Security
Eliminates worry of loss, theft or unauthorized use of ID cards
Dual authentication via PIN input standard with a wide degree of credential compatibility via factory options or by attaching any Wiegand-based reader
Allows customization of user-specific security levels, time zones, holidays and languages
Field-upgradeable memory options expand user capacity from 512 up to 32,512 users
Can be used indoors or outdoors with options for enclosure and heated platen
Efficiency
User verification method is more forgiving for lower reject rates than other biometric methods
Makes subtle template adjustments with each use
Low sensitivity to dirt on hands or dusty environments
User verification is confirmed in less than 1 second
Ideal for high traffic applications
Convenience
Quick installation and intuitive enrollment
Use as a standalone system or easily integrate into access control system
Ability to customize user-specific security levels, time zones, holidays and languages
Optional HandNet software enables HandKeys to communicate alarms and transactions in real time without access control system integration
Provides activity reports
On-site supervised user enrollment can occur at any networked unit with ability to create expiring visitor privileges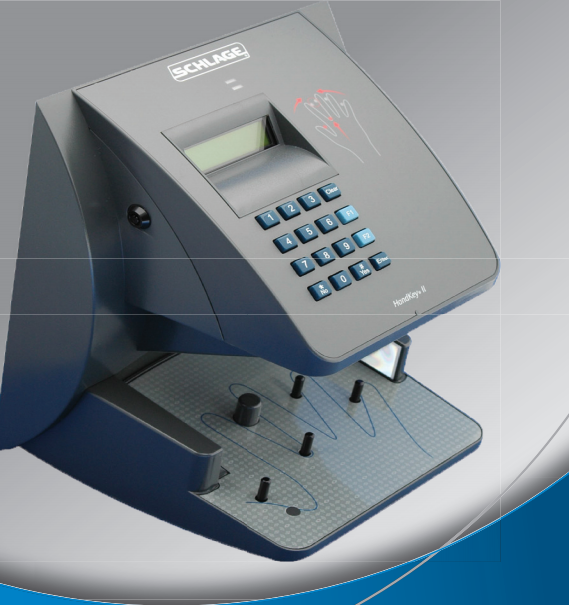 Specifications
Standalone user capacity: 512 users with options for expansion to 32,512
Networked user capacity: dependent on software provider capability
Inputs
Standard: 26 bit Wiegand; 9 bit ID
Dual authentication via PIN code with options for proximity and MiFare Classic
HandKey reader input optional: Compatible with any Wiegand-based reader
HandKey input: Request-to-exit, door switch input, 2 auxiliary inputs
Outputs
Door control: locking device management
Card reader emulation mode output to panel
Outputs to peripheral devices: Audible or silent alarms, lighting systems, etc.
Communication options
RS-232
RS-422
RS-485
Optional Ethernet (EN-201) or modem (MD-500)
Options and accessories
Card readers for additional input options
Network accessories
Indoor and outdoor enclosures
Heated platen
Normal Operating temperature
32° to 113° F (0° to 45°C)