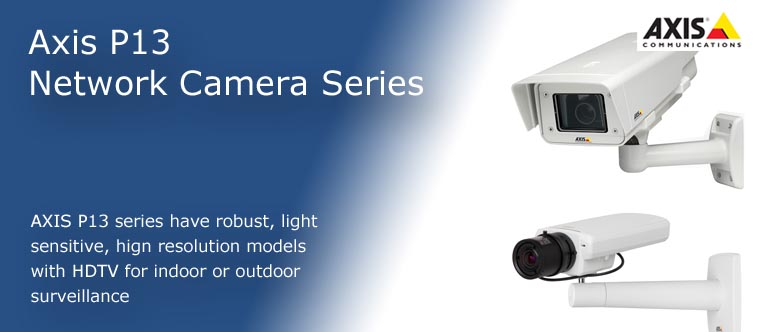 AXIS P13 Series
AXIS P13 Series Documentation
AXIS Documentation
Network Video Product Comparison Tables
Axis Naming Convention Table
AXIS P13 Network Camera Series are robust, light sensitive fixed network cameras with:
Excellent video quality from 1MP to 4K
Outstanding light sensitivity
Lightfinder technology and Forensic WDR
Zipstream
Outdoor-ready models
Flexible CS-mount cameras
Some models include:

Temperature range: -40 °C to 55 °C (-40 °F to 131°F)
i-CS lens for clear images and easy installation
Enhanced capacity for analytics
Feature
Network camera model
Indoor
AXIS P1375
AXIS P1377
AXIS P1378
Outdoor-ready
AXIS P1375-E
AXIS P1377-LE
AXIS P1378-LE
Max video resolution
1920x1080
2592x1944
3840x2160
Max frames per second
50/60
25/30
25/30
Image sensor size
1/2.8
1/2.7
1/1.8
Horizontal field of view
121-33 Indoor
107-33 Outdoor
111-38 Indoor
90-38 Outdoor
119-45 Indoor
115-45 Outdoor
P-iris
i-CS lens support
Audio support
Zipstream
Lightfinder
WDR technology
Forensic WDR
Forensic WDR
Forensic WDR
Image stabilization
Listed below are all the Axis Cameras in this Series. Call for volume pricing. All prices exclude VAT.