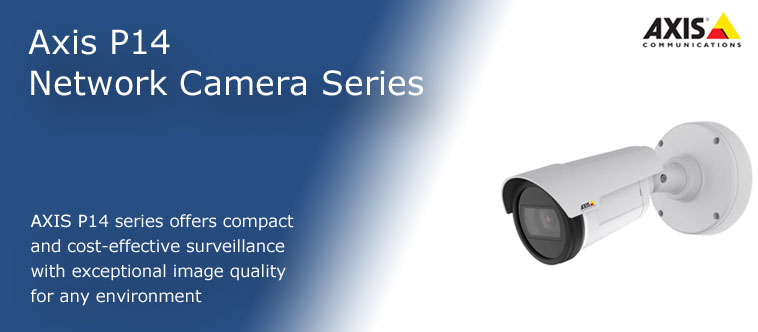 AXIS P14 Series
AXIS P14 Series Documentation

AXIS P1445-LE-3 Network Camera Datasheet

AXIS P1447-LE Network Camera Datasheet

AXIS P1448-LE Network Camera Datasheet
AXIS Documentation
Network Video Product Comparison Tables
Axis Naming Convention Table
Wide range of models
Compact and cost-effective surveillance for any environment
Easy installation both indoors and outdoors
Day & Night functionality
Edge storage
Some models include:

5 MP at 25/30 fps
WDR – Forensic Capture, Lightfinder and Zipstream technologies.
OptimizedIR technology
Built-in IR LEDs and OptimizedIR, 30 meters
H.264 and Motion JPEG
I/O support
Corridor format
AXIS P14 Network Cameras constitute a series of compact, outdoor-ready bullet-style cameras. These cameras are ideal for 24/7 video surveillance, in exposed outdoor areas such as parking lots, service- stations and for general indoor surveillance purposes where a compact camera is needed. AXIS P14 Series offers models with exceptional image quality from 1080p resolution up to 4K Ultra HD.
Feature
Network camera model
Indoor/Outdoor
AXIS P1445-LE-3
AXIS P1447-LE
AXIS P1448-LE
Max video resolution
1920x1080
3072x1728
3840x2160
Min illumination/ light sensitivity (Color)
0.07 lux
0.15 lux
0.18 lux
Sensor size in megapixel
2
5.3
8.5
HDTV resolution
1080p
3072x1728
4K
Varifocal lens
Remote focus
Remote zoom
P-iris
Rotation angles
0, 90, 180, 270
0, 90, 180, 270
0, 90, 180, 270
Power over Ethernet
Local storage
Day & Night functionality
Built-in IR
Digital I/O
Lightfinder
WDR technology
Forensic WDR
Forensic WDR
Forensic WDR
Zipstream
Listed below are all the Axis Cameras in this Series. Call for volume pricing. All prices exclude VAT.