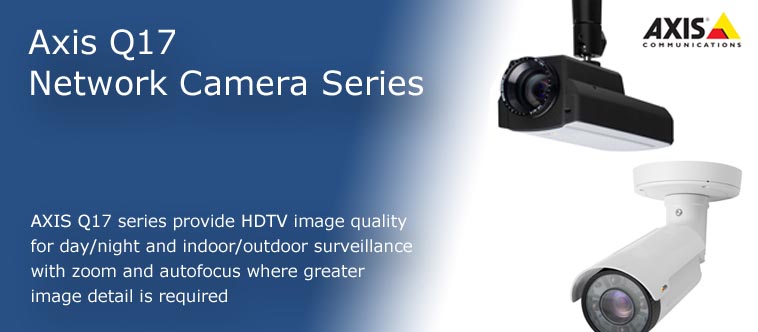 AXIS Q17 Series
AXIS Q17 Series Documentation
AXIS Documentation
Network Video Product Comparison Tables
Axis Naming Convention Table
HDTV image quality
Zoom and autofocus
Power over Ethernet
Intelligent video capabilities
Slim, bullet-style design
Some models include:
18x optical zoom and autofocus
Built-in IR illumination
WDR – Dynamic Contrast
OptimizedIR
HDTV 1080p and H.264
IP66- and NEMA 4X-rated for outdoor use
Axis' unique Corridor Format
Feature
Network camera model
Outdoor-ready
AXIS Q1700-LE
AXIS Q1785-LE
AXIS Q1786-LE
AXIS Q1798-LE
Max video resolution
1920x1080
1920x1080
2560x1440
3712x2784
HDTV resolution
1080p
1080p
1440p
3840x2160
Min illumination/ light sensitivity (Color)
0.16 lux
0.16 lux
0.18 lux
0.03 lux
Sensor size in megapixel
2
2
3.7
10.3
Optical zoom
6.5
32
32
4
Varifocal lens
Power over Ethernet
Local storage
Day and Night functionality
Built-in IR
Digital I/O
Lightfinder
WDR technology
Forensic WDR
Forensic WDR
Forensic WDR
Forensic WDR
Zipstream
Listed below are all the Axis Cameras in this Series. Call for volume pricing. All prices exclude VAT.