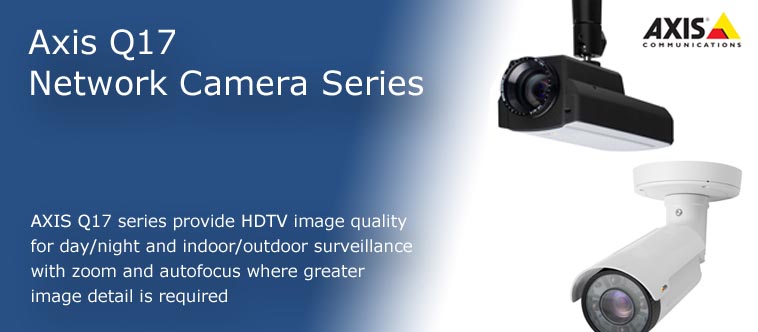 AXIS Q17 Series
AXIS Documentation
Network Video Product Comparison Tables
HDTV image quality
Zoom and autofocus
Power over Ethernet
Intelligent video capabilities
Slim, bullet-style design
Some models include:
18x optical zoom and autofocus
Built-in IR illumination
WDR – Dynamic Contrast
OptimizedIR
HDTV 1080p and H.264
IP66- and NEMA 4X-rated for outdoor use
Axis' unique Corridor Format
Feature
Network camera model
Outdoor-ready
AXIS Q1765-LE
AXIS Q1765-LE PT Mount
AXIS Q1785-LE
AXIS Q1786-LE
Max video resolution
1920x1080
1920x1080
1920x1080
2560x1440
HDTV resolution
1080p
1080p
1080p
1440p
Min illumination/ light sensitivity (Color)
0.5 lux
0.5 lux
0.16 lux
0.18 lux
Sensor size in megapixel
2
2
2
3.7
Optical zoom
18
18
32
32
Varifocal lens
Power over Ethernet
Local storage
Day and Night functionality
Built-in IR
Digital I/O
Lightfinder
-
-
WDR technology
Dynamic Contrast
Dynamic Contrast
Forensic WDR
Forensic WDR
Zipstream
Listed below are all the Axis Cameras in this Series. Call for volume pricing. All prices exclude VAT.