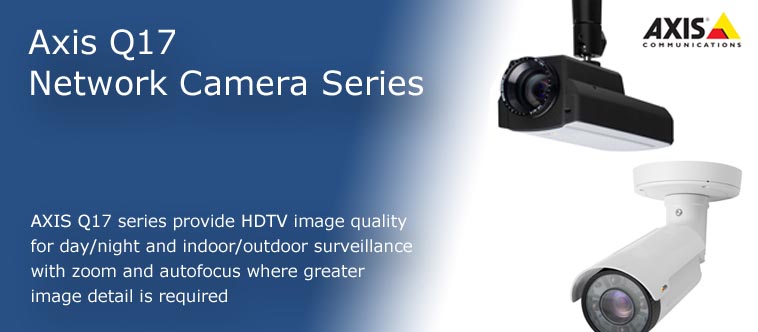 AXIS Q17 Series
AXIS Q17 Series Documentation

AXIS Q1700-LE Network Camera Data Sheet

AXIS Q1785-LE Network Camera Data Sheet

AXIS Q1786-LE Network Camera Data Sheet
AXIS Documentation
Network Video Product Comparison Tables
Axis Naming Convention Table
HDTV image quality
Zoom and autofocus
Power over Ethernet
Intelligent video capabilities
Slim, bullet-style design
Some models include:
18x optical zoom and autofocus
Built-in IR illumination
WDR – Dynamic Contrast
OptimizedIR
HDTV 1080p and H.264
IP66- and NEMA 4X-rated for outdoor use
Axis' unique Corridor Format
Feature
Network camera model
Outdoor-ready
AXIS Q1700-LE
AXIS Q1785-LE
AXIS Q1786-LE
Max video resolution
1920x1080
1920x1080
2560x1440
HDTV resolution
1080p
1080p
1440p
Min illumination/ light sensitivity (Color)
0.16 lux
0.16 lux
0.18 lux
Sensor size in megapixel
2
2
3.7
Optical zoom
6.5
32
32
Varifocal lens
Power over Ethernet
Local storage
Day and Night functionality
Built-in IR
Digital I/O
Lightfinder
WDR technology
Forensic WDR
Forensic WDR
Forensic WDR
Zipstream
Listed below are all the Axis Cameras in this Series. Call for volume pricing. All prices exclude VAT.
AXIS Q1700-LE

Robust outdoor, color 2 MP/1080p HDTV license plate camera for sharp license plate images day and night. Multiple, individually configurable H.264 and Motion JPEG streams; max HDTV 1080p / 2MP resolution at up to 50/60 fps. Varifocal 18–137 mm, 8x optical zoom lens, 16°-2.3° HFOV, F2.9 with remote zoom and installation focus. License plate capture range 20-50 meter at night with built-in OptimizedIR at speeds up to 130 km/h (81 mph) Includes license plate capture assistant for easy setup, pixel counter, shock detection, active tampering alarm, defogging and electronic image stabilization. Audio mic/line in, I/O for alarm/event handling and memory card slot for optional local video storage. Integrated bracket for easy mounting on wall and ceiling. Dark grey (NCS S5502-B) casing, black fixed metal weather shield with anti-glare coating. NEMA 4X, IP66/67 and impact resistant in -40°C to +60°C(-40 °F to 140 °F). Powered by PoE (IEEE 802-3af), RJ45 or IDC punchdown connector, 20-28 V DC or 20-24 V AC. License plate recognition software, power supply or midspan not included.

Learn More

AXIS Q1786-LE

Robust outdoor, 4 MP/Quad HD1440p, day/night fixed bullet camera with 32x optical zoom. Multiple, individually configurable H.264 and Motion JPEG streams; max HDTV 1440p /4MP resolution at 50/60 fps. Forensic WDR and Lightfinder for demanding light conditions and Axis Zipstream technology for reduced bandwidth and storage needs. Varifocal 4.3–137 mm, F1.4 with remote zoom and autofocus. Includes analytics AXIS Guard Suite, shock detection and active tampering alarm. Corridor format, Barrel distortion correction, Defog, Electronic image stabilization and Scene profiles Audio mic/line in, I/O for alarm/event handling and memory card slot for optional local video storage. OptimizedIR, a power-efficient IR LED technology. Integrated bracket for easy mounting on wall and ceiling. NEMA 4X, IP66/67 and impact resistant in -40°C to +60°C(-40 °F to 140 °F). Powered by PoE (IEEE 802-3af), 20-28 V DC or 20-24 V AC. Includes a removable sunshield. Power supply or midspan not included.

Learn More

AXIS Q1785-LE

Robust outdoor, 2 MP/HDTV, day/night fixed bullet camera with 32x optical zoom. Multiple, individually configurable H.264 and Motion JPEG streams; max HDTV 1080p /2MP resolution at 50/60 fps. Forensic WDR and Lightfinder for demanding light conditions and Axis Zipstream technology for reduced bandwidth and storage needs. Varifocal 4.3–137 mm, F1.4 with remote zoom and autofocus. Includes analytics AXIS Guard Suite, shock detection and active tampering alarm. Corridor format, Barrel distortion correction, Defog, Electronic image stabilization and Scene profiles Audio mic/line in, I/O for alarm/event handling and memory card slot for optional local video storage. OptimizedIR, a power-efficient IR LED technology. Integrated bracket for easy mounting on wall and ceiling. NEMA 4X, IP66/67 and impact resistant in -40°C to +60°C(-40 °F to 140 °F). Powered by PoE (IEEE 802-3af), 20-28 V DC or 20-24 V AC. Includes a removable sunshield. Power supply or midspan not included.

Learn More