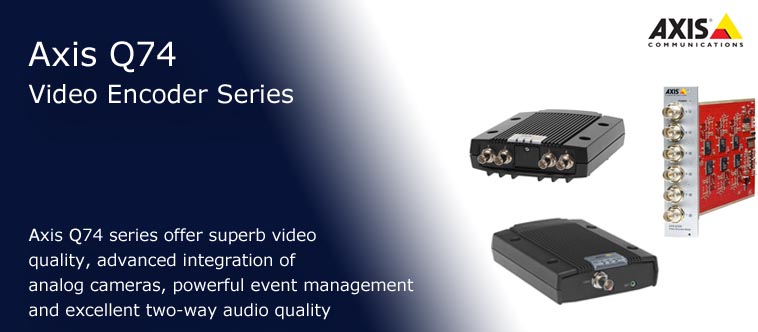 AXIS Q74 Series
Multiple H.264 streams per channel
Full frame rate in all resolutions
Intelligent video capabilities
Audio detection
I/O support
Two-way audio
Superb video quality and most advanced integration of analog cameras
AXIS Q74 Video Encoder Series delivers superb video quality and offers full-featured, most advanced and secure integration of analog cameras into an IP-based video surveillance system.
Powerful event management
The video encoders offers powerful event management with intelligent video capabilities and ability to secure people and property, or monitor equipment and facilities, remotely from anywhere there is a networked computer.
Significant savings in bandwidth and storage
AXIS Q74 Series offers highly efficient H.264 video compression, which drastically reduces bandwidth and storage requirements without compromising image quality. Motion JPEG is also supported for increased flexibility.
AXIS Q7424-R Mk II

Rugged Video Encoder with H.264 and Motion JPEG support. 1-4 video channels. Video motion detection. Two-way audio with audio detection. ACAP support on one channel. Ethernet port and SFP slot for fiber connection. Support for Power over Ethernet (IEEE 802.3af) and Power Supply (optional). Edge storage using SDHC card or NAS. PTZ support and configurable I/O connectors. AXIS Q7424-R MkII is an update to the original AXIS Q7424-R. The addition of 100 Mbps on the SFP slot is the only difference. The original product only has support for 1 Gbps.

Learn More

AXIS Q7436

6 channel video encoder blade. Multiple, individually configurable H.264 (Base, Main and High profile) and Motion JPEG streams; max. D1 resolution at 60/50 fps per channel. Video motion detection. Active tampering alarm. Coax PTZ Control (Coaxitron). Compatible with the following video encoder chassis:AXIS Q7920, AXIS Q7900 and AXIS 291 1U

Axis Q7436 Video Encoder Data Sheet

Learn More