AXIS Q7920 Video Encoder Chassis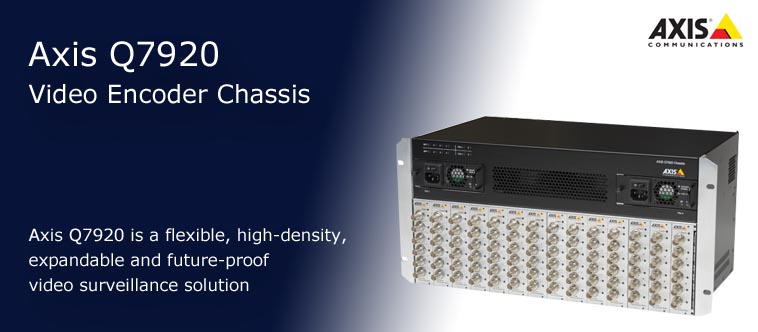 AXIS Q7920 Video Encoder Chassis
Holds up to 14 hot-swappable blades
Power and network redundancy
I/O and serial port support
AXIS Q7920 Video Encoder Chassis is a 5U rack mount video encoder chassis that holds up to 14 hot-swappable blades. The video encoder chassis, when fully equipped, enables up to 84 analog cameras to be integrated into an IP-based video surveillance system making it a flexible solution.
Expandable solution for mission critical installations
AXIS Q7920 allows for a number of different video encoder blades to be mounted and thereby offering a flexible, expandable, high-density solution. It allows any combination of blades, whether they are 4- or 6-channel blades supporting different compression formats, resolutions and frame rates. This rack mount video encoder chassis is a future-proof video surveillance solution ideal for large, mission critical installations where high performance, flexibility and reliability are required.
AXIS Q7436/Q7920 Kit available
AXIS Q7920 Video Encoder Chassis is available as a kit consisting on 14 pre-installed AXIS Q7436 Video Encoder Blades in a Q7920 Video Encoder Chassis.
AXIS Q7920

5 U rack-mount video encoder chassis, providing an expandable solution for migrating large-scale analog installations to network video. Holds up to 14 hot-swappable video encoder blades supporting up to 84 analog cameras.

Axis Q7920 Video Encoder Data Sheet

Learn More