Property Management
The Benefits of an Encom Solution
Save Time: You never need to go to site to collect camera footage. Data can be obtained online or the Encom team can retrieve the footage for you and send it to the Garda or to wherever it is required.
Save Money: No recording or storage equipment (NVR/DRV) is required on site thereby reducing the installation costs and the need for a secure storage areas on site.
Secure Storage Servers: Your data is protected and all the footage is stored on Encom secure servers with authorised access for nominated persons only.
Integrated Security and Access Control: Encom provide a complete package from designing a security system with the latest technologically advanced cameras and easy to manage access control.
Encoms' Multi-disciplined Team: With over 20 years of experience in IT Systems and Security Services the Encom team can bring you the best and latest technology to make your job easier.
From industrial estates to apartment blocks Encom's expert team of engineers can design a security solution to protect your property. Our team work with property managers from all areas of the industry to create flexible innovative options to meet your client requirement.
Whether you require a monitored security solution or a 24 hour surveillance solution, from car parks to high-rise blocks we can provide you with a state of the art security system with total network control.
From high spec cameras to door entry manager systems, alarm monitoring, thermal cameras for night time surveillance with infrared monitoring, Encom's depth of experience in IP network surveillance solution can give you a perfect system to remotely monitor your property and facilities.
A Point-to-multi-point wireless option can be a very cost effective solution for many small projects. Video recording or storage equipment is not required at the site and security footage can be stored on Encom secure servers. There is no requirement to build a special secure storage room or no need for NVRs.
...the service Encom provided meant we did not have to spend our time managing security so we could get on with the job of managing property..
T.McDonagh
Access Control technology has become a much more affordable option for small property owners. Encom can offer you the most up-to-date solutions for managing tenants access. A Clay solution from Salto allows access using an electronic tag which can be blocked instantly and doors can be opened remotely with any internet connected device.
CLAY LOCKING SOLUTION is a perfect solution for property managers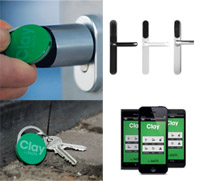 It is an AFFORDABLE solution for small and medium sized properties.
You have INSTANT CONTROL over every lock – from anywhere, anytime.
The CLAY TAG is your new key that works on both the ClayCylinder and the Clay Doorlock.
REMOTELY OPEN OR LOCK DOORS with secure password technology.
BLOCK a lost ClayTag.
Lock management is in the CLOUD and is securely accessible from any internet connected device.

Requirement: to monitor an Industrial Estate with 50 – 60 resident businesses and have security in car park and public areas day and night. The solution included high resolution cameras, gate automation and a remote monitoring company using live video and audio links to access incidents and warn off intruders...Read More