Store optimization
Maximize in-store performance with powerful in-store reporting delivering critical data in real-time. Get better customer behaviour and store activity insight – then ensure that your staff rapidly engages to convert sales and customer experience opportunities. Every hour of every business day.
Online Retailers have a deep understanding of their customers, the demographic of their shoppers, their choices and how they shop. They understand the importance of good analytics and how valuable it can be to their business and marketing strategy.
Using security cameras and Axis Analytic software High Street Retail can bring real value and insight to their business with the information gathered from their camera system.
You can focus on customer engagement, sales and service by efficiently monitoring in-store queues, re-allocating your staff in real time and seeing how well your campaigns and merchandising attracts shoppers.
Axis Store Optimization Solution
AXIS Store Optimization Suite includes is a series of business intelligence video analytics that run fully embedded on Axis network cameras. There's no need for additional hardware or servers, which minimizes installation time and costs.
Axis Store Optimization Solution
Integration with leading retail technology
Built on open standard technology, Axis solutions can be integrated with your POS system, as well as digital signage, heat mapping and other leading store optimization technology from Axis partners.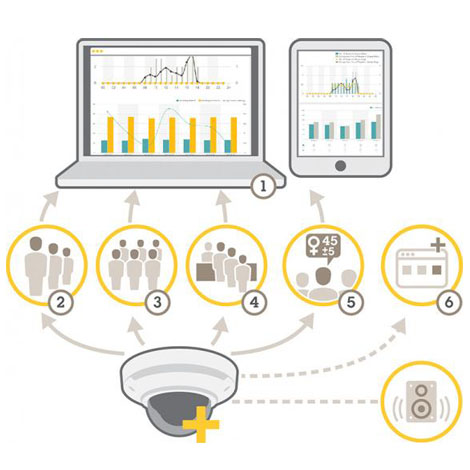 Axis Store Optimization Solution